Milwaukie Citizens Jury Update
The Citizens Jury will take place:
November 9–12, 2019 – 9AM–5PM each day
in the Harmony West Building at the CCC-Harmony Campus
(7738 SE Harmony Rd, Milwaukie, OR, 97222)
The Citizens Jury is open to public observers and will be live streamed.
(Observer ground rules and live stream links will be posted on this page in the upcoming weeks.)
The Citizens Jury will formally present its recommendations to the City of Milwaukie at a special session of City Council taking place:
November 12, 2019 – 5:15PM
at Milwaukie City Hall
Like all standard City Council sessions, this will be open to the public and live streamed.
Milwaukie Citizens Jury Pilot Project
Milwaukie, Oregon, was the first city selected to participate in a pilot Citizens Jury, in summer 2019. The citizen panel will consider the question: "Should Milwaukie city council members be paid more than their current volunteer stipend? If so, how much should council members be compensated?" The panel's conclusions will inform future council discussions and possible policy changes or referenda.
The Citizens Jury model designed for Milwaukie will be time- and cost-efficient, with an eye toward easy replicability by other cities with difficult policy questions. The process will take place over two weekends with 20 citizen panelists and will be open to observers.
For more info on the project, see its latest press release here.
Dates & Locations
Reply-By Deadline: September 10, 2019, 11:59PM
Panelist Selection Event: September 11, 2019, 6 – 6:30 p.m.
Location: Milwaukie City Hall, City Council Chambers
This is a brief public event, where we randomly

(and transparently)

select citizen panelists from among the responses we have received. We selected 19 of the 20 panelists at this event, with the final panelist being randomly selected from among US government students at Milwaukie High School in late-September. A recording of that event is available here

.

The Citizens Jury: November 9–12, 2019, 9AM–5PM each day
Location: Clackamas Community College, Harmony Campus, Harmony West Building, 7738 SE Harmony Rd, Milwaukie, OR, 97222
The entirety of the Citizens Jury is open to public observers. Days 1 & 2 will feature expert testimony. Days 3 & 4 will feature panel deliberation and drafting of recommendations. Additional details will be posted on this web page.
Contact Us
Further questions? Please email us at info@healthydemocracy.org or call us at (503) 841-6865.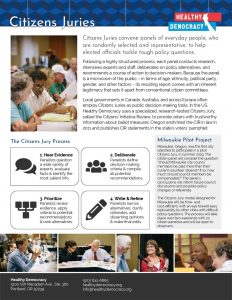 Our brief introduction to the Citizens Jury program and the Milwaukie pilot.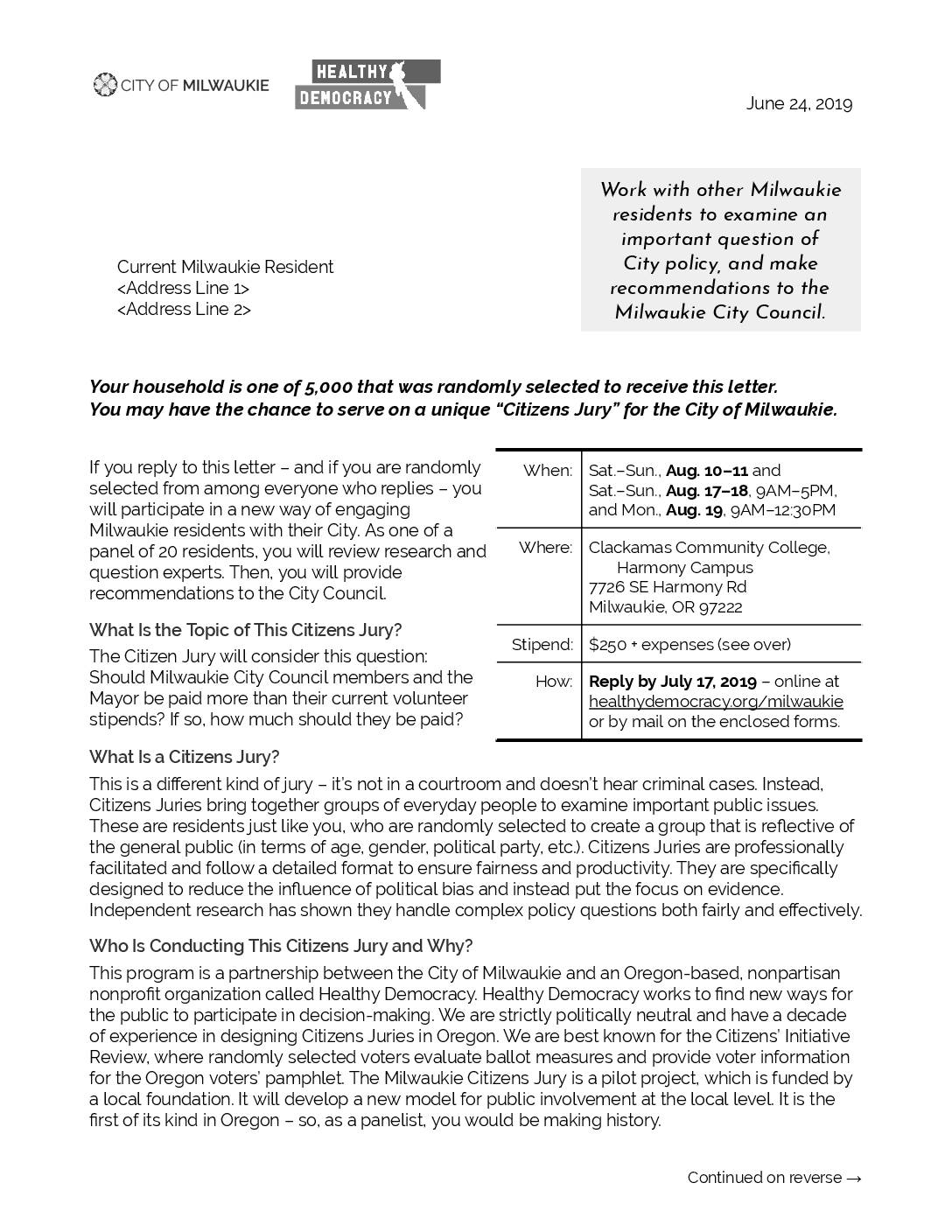 NOTE: Disregard all dates mentioned in this letter. See new dates above.
This is the letter we sent to 5,000 randomly selected households in the City of Milwaukie, which explains the program in more detail, answers a number of common questions, and invites recipients aged 16+ to reply.