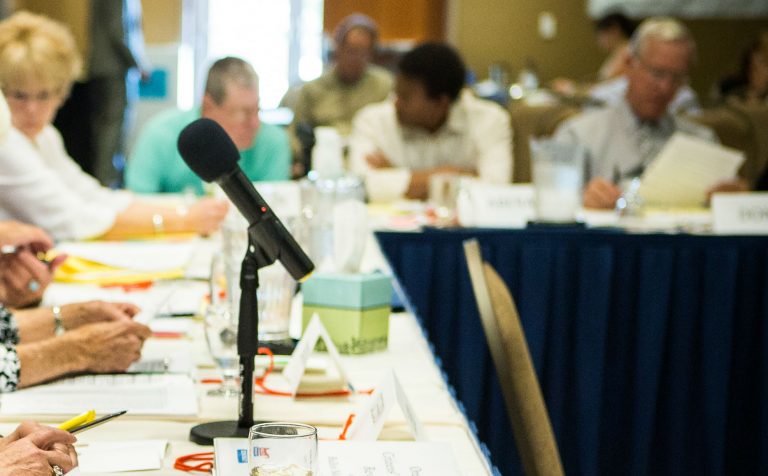 Planning a Citizens' Initiative Review
Healthy Democracy is always seeking project partners who can provide a "home" for the Citizens' Initiative Review (CIR) outside of Oregon. Ideal partner organizations are nonpartisan nonprofits, academic institutes, or public-sector agencies who have an interest in advancing collaborative deliberation of our most difficult political issues and promoting citizen-authorship of high-quality voter information.
In addition, partners also contribute staff capacity to any CIR project – to work with us in raising project funds, managing and staffing the event, coordinating logistics and media, and helping to identify local CIR champions and issue experts. The degree of involvement on the part of local partners, as well as specific responsibilities of each partner in a CIR, varies by project, but a general overview follows. 
Healthy Democracy Typically Provides . . .
Citizens' Initiative Review Process Manuals 
Training for all staff
Lead Moderators experienced in the CIR
Onsite process quality monitoring / ombud
Coordination of independent academic researchers
Panelist recruitment
CIR sample materials and Partner Podcasts
CIR Content Manager, a specifically designed, self-contained digital  information management system
Partners Typically Provide . . .
A local "home" for the Citizens' Initiative Review
A recognizable local name that adds credibility to the project
Connections with prominent local CIR champions, who often serve on an Advisory Committee
Connections to pro and con campaigns for the ballot measure in question
Assistance to the Citizen Panel in selecting independent expert presenters
HD & Partners Typically Work Together to Provide . . .
Grant writing or other fundraising for the project
Project management
Asst. moderator recruitment
Advocate and expert communication
Public relations, outreach, and media contacts
Advisory committee management
Planning for a Citizens' Initiative Review event, beginning with drafting and signing a Memorandum of Understanding, typically begins approximately 5 to 6 months before a CIR. Ideally, HD and partners will start 2 to 3 months earlier if fundraising is needed. For November elections, Citizens' Initiative Reviews are typically held in August or September.
CIR Experience & Materials
Collaborating on a Citizens' Initiative Review project with us will give you access to our experience coordinating around 20 CIRs since 2008 and the many materials they require. CIRs are highly complex events – logistically, politically, and procedurally – and require a wide range of specialized materials, all of which we will provide as part of our involvement in any project. They include:
The CIR Process Manual, a nearly 100-page document that details every minute of the process. The CIR's process design is an archetype in the field, as one of the oldest and most heavily scrutinized deliberative processes in current existence. It is in a state of continuous development and improvement; the current version is v5.0.
Numerous template documents associated with the running the CIR event and explaining it to the outside world.
The CIR Content Manager, a custom digital system that helps us manage the flow of information and decision-making during the process – as voter information is edited, re-edited, vetted, sorted, and prioritized.
CIR planning documents, including planning timelines, sample budgets, staffing descriptions, best practices, protocols, and sample correspondence.
CIR "Partner Podcasts," which give new partners an inside look into some of the tricker parts of planning a Citizens' Initiative Review.
CIR Key Quality Elements, which outline the core philosophy of the CIR.
And more!
Partner materials are available to NGOs, academic institutions, deliberative practitioners, or government agencies seeking to implement the CIR, upon request. Please contact us to request access to the materials.
If you are interested in translating or adapting the Citizens' Initiative Review, please get in touch! We'd love to talk to you.
What is a Citizens' Initiative Review?
Ballot measures drive major policy decisions in both state and local governments, yet surveys have shown that 75% of voters say they often find initiatives too complicated or confusing to understand. Accurate and unbiased information is not only difficult to come by, it is often obscured by misleading statements and advertisements by both sides of an issue. The 4-day Citizens Initiative Review process empowers a representative panel of voters to learn about a ballot measure from advocates and independent experts, deliberate with one another to assess the strength and reliability of information, and produce a concise and readable statement for their fellow voters. They don't take sides. Instead, they present the best possible information on both sides of the measure and let voters make up their own minds.
How are measures selected for review?
Any citizen-initiated ballot measure (also known as ballot propositions or ballot questions) can be reviewed using the Citizens Initiative Review process. An independent body such as a commission or an advisory committee selects the measure(s) that will be reviewed using a set of criteria. Typically, they consider the potential fiscal impact of a measure, the complexity of the proposed law and/or potential for voter confusion, and whether the measure would change the constitution.
How are the citizen panelists selected?
A random sample of registered voters (typically 10,000) receives a letter in the mail explaining the Citizens Initiative Review and inviting them to apply to participate and verify that they can review the selected measure objectively. Of the applications returned, project organizers conduct an open and transparent process to select a panel that reflects voter demographics according to official census and elections data. The resulting panel reflects the population of the state, county, or city in terms of age, geography, political perspective, gender, race, ethnicity, and educational attainment.
Who is in the room during a Citizens Initiative Review?
During the 4-day Citizens Initiative Review, the citizen panelists take center stage. They are guided through the process by professional neutral moderators – specially trained in the Citizens Initiative Review process – and are supported by an Information Coordinator and a Process Quality Monitor. Campaign advocates for and against the measure testify to the panel, and independent experts answer citizen panelist questions. Members of the media and general public are welcome to observe and an academic research team conducts daily evaluations to ensure the process is fair, unbiased, and democratic.
A full Citizens Initiative Review, including venue, food, transportation, panelist stipends, lodging, materials, and staff time can range from $65,000 – $125,000 per measure. Factors impacting the cost include local venue and lodging rates, local staffing resources, and panelist transportation distance. Additional funding, if available, can be used to increase public awareness of the Citizens' Statement and the CIR process.