Community Oregon Virtual Reality Documentary Project
from Healthy Democracy and Sunnyside VR

We live in a society that is basically at war with itself. People speak with incredible contempt about – depending on their views – the rich, the poor, the uneducated, the foreign-born, the president, or the entire US government. It's a level of contempt that is usually reserved for enemies in wartime, except now it's applied to our fellow citizens.
— Sebastian Junger, from his book Tribe
---
Project Mission
To help create empathy and bridge the extreme partisan divide between urban and rural residents of the United States by documenting Healthy Democracy's first urban/rural exchange program in a multimedia project that would (a) serve as a thorough case study for both Healthy Democracy and other organizations to create similar future programs and (b) recreate the exchange in virtual reality to scale the exchange program beyond the direct participants and make the program available to anyone with an internet connection.
---
Background
With the most recent US presidential election, everyone is talking about the increasing polarization in this country. Liberals and conservatives are increasingly less and less exposed to each other – partially by choice (on the internet) and partially thanks to geography, with liberals increasingly flocking to cities while conservatives live in more rural areas.
But how do you combat these bubbles that are aggravating polarization? In Tribe, Rachel Yehuda says, "If you want to make a society work, then you don't keep underscoring the places where you're different – you underscore your shared humanity." And in an article by Andres Miguel Rondon, a Venezuelan who lived through the crisis there, he writes, "it took our leaders years to figure out they needed to actually go to the slums and to the countryside. And not for a speech, or a rally, but for a game of dominoes or to dance salsa."
So how do we get accomplish this and get people out of their respective bubbles? How do we instigate these cultural exchanges? And more importantly, how do we do so on a large scale?
/ / / / /
Healthy Democracy, an Oregon-based non-partisan nonprofit, is implementing their first urban/rural exchange program called Community Oregon with the goal of addressing the wide gulf of misunderstanding between rural and urban residents. Their program, of which they anticipate around 20-25 participants, will include a 3-day camp-like experience in June where participants will get acquainted with the aspects of maintaining a healthy democracy and receive training with an emphasis on creating an environment where trust can be established among a diverse microcosm of Oregon citizenry in the post-2016 election environment. The exchanges will take place in August/September and will provide opportunities for participants to build social capital that will reduce tensions and build resilience across political, geographic, racial/ethnic and other differences, and provide a basis for sustaining these relationships when contentious political issues arise in the future. And lastly there will be an expo where participants can share what they've learned in November. Participants will finish the program realizing that they can indeed work together with people who have viewpoints different from their own, and they will in turn begin to expect the same of their legislators.
As mentioned earlier, however, exchange programs have a problem of scalability: it is not financially feasible to send mass amounts of citizens on trips to visit each other. So how do you expand the reach of the exchange to the masses in a financially feasible way? We think the answer lies in virtual reality.
---
The Proposal
SunnysideVR and Healthy Democracy propose a comprehensive, ambitious multimedia case study and research project built around Community Oregon. The first component of the case study would be documenting the exchange program with traditional video from start to finish, following 3 pairs of participants through every phase of the program. This video would then be edited into either a single documentary or a series of short videos, whichever format we find works best for the content. It would serve as an educational tool and case study for both Healthy Democracy and other organizations to learn from and use in implementation of similar future exchange programs. The video content would also be available to the public to encourage dialogue.
The second component would be to recreate the exchange in virtual reality (VR) by filming 360° video with the same 6 participants so that people who couldn't participate in the program can do a "virtual exchange program" and feel that they are really in the participants' homes with them, gaining an understanding of what their lives are like. The VR content would be an interactive platform and would be broken up by exchange pairs. Once the viewer chose an exchange pair, viewers would first watch a short film of the exchange to open their minds to both parties by seeing how the participants overcame their biases. Then they would enter the participants' homes in VR and explore their lives, families, jobs, etc. This could be done across many VR platforms: from WebVR, which only requires an internet-connected device, up to high-end headset experiences, to maximize the reach and effectiveness of the project.
/ / / / /
The VR component is meant to address exchange programs' problem of scalability and be a test case to see how VR can help scale an exchange program and expose a greater number of people to more lifestyles different from their own without having to physically send people to visit one another. SunnysideVR's hope for the VR piece is that, if it is effective in helping to scale the exchange's reach beyond direct participants and creating real empathy in viewers, then a VR exchange program could be implemented at a national level – organize sexchanges even across state lines and create VR experiences of many different types of peoples' lives, so that there would be a whole array of experiences representing the vast diversity of people in the U.S. so that viewers could be exposed to many people's lives that are different from their own.
The hardest part of this project will be distribution: how do we get this out to as many Americans as possible and how do we get them to watch the pieces about the people with opposing viewpoints from their own? We plan to do focus group testing and to utilize the expertise of Healthy Democracy and other pertinent, non-partisan organizations to help us with this. The traditional video piece will also hopefully help inspire people to participate by showing that the exchange pairs overcame their differences.
---
Why VR?
There are dozens, maybe even hundreds, of articles about how VR is the "empathy machine" – how VR makes you feel like you're really there as no other medium has accomplished before, and how that increases empathy in viewers. But so far most cause-driven organizations seem focused on creating empathy for causes abroad. It's a wonderful thing that people can be transported to places all over the globe and that it's helping organizations raise more money or create policy changes for those in desperate need. VR helped Charity: Water raise $2.4 million to bring water to communities in need in Ethiopia, as an example of the power of cause-driven VR.
But I think we could use our fair share of empathy at home right now, and the end goal of this project would be simply that: empathy.
This project is not aimed at donors or even policy-makers, though certainly policy changes would be an added bonus, and I'm sure participating organizations could leverage increased donations out of a project like this. But this project is not for them specifically.
This project is for everyday Americans to try to heal this rift that could ultimately be the undoing of this great country.
---
Who We Are

Healthy Democracy is a nonpartisan organization whose mission is to elevate the voice of citizens and improve political discourse for the benefit of all voters. Our flagship program, the Citizens Initiative Review (CIR) was developed in 2008 and adopted as an official part of Oregon's electoral process in 2011. The CIR convenes a randomly selected and demographically-representative group of citizens to deliberate on high-profile ballot initiative questions and share key information with voters.
The Oregon CIR has twice been named one of a Top 10 Innovations in American Government recipient by Harvard's Kennedy School of Government. CIRs have also been done in Massachusetts and California.
/ / / / /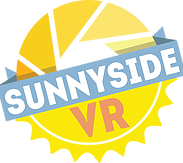 SunnysideVR is a full-service VR video production company based in Washington, D.C.
We create immersive video content for all VR platforms, including iOS, Android, Google Cardboard, Oculus Rift, and Samsung Gear VR. We have worked with big name brands like Mercedes, Esteé Lauder, and Twitter but our true passion is cause-driven VR storytelling.
SunnysideVR was founded by Emma Mankey Hidem in 2015. Emma has a decade of experience working in documentary film, nonfiction media, and interactive media, and has been shooting 360° video since 2013, before virtual reality was even an industry.
---
Contacts
SunnysideVR // sunnysidevr.com // 202.768.8360 // emma@sunnysidevr.com
Healthy Democracy // healthydemocracy.org // 503.841.6865 // robin@healthydemocracy.org