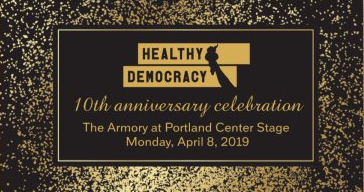 10th Anniversary Celebration
Join us to celebrate 10 years of Healthy Democracy in Oregon and beyond, and to look ahead at what new possibilities are sure to arise from our work together.
Event details
Cocktails from 5:30 to 6:30 p.m.
Dinner at 6:30 p.m.
Tickets – $50 | Tables of 8 – $400
Business attire
Confirmed speakers
John Frohnmayer – Keynote Speaker
Former Chair, National Endowment of the Arts
Author, Leaving Town Alive: Confessions of an Art Warrior and Out of Tune: Listening to the First Amendment
Wendy Willis – Special Reading
Executive Director, Deliberative Democracy Consortium
Author, These are Strange Times My Dear: Field Notes from the Republic and A Long Late Pledge
Raffle packages
Tickets for the raffle are one (1) for $1, or $40 for a wingspan (how far can your arms stretch?). You can put your tickets in for whichever package tickles your fancy.

A Night on the Town 
One-night stay at the Inn at Northrup Station
$100 gift certificate to Andina
Two tickets to an upcoming show at Portland Center Stage
Dining Around the World . . . In Portland
$50 gift certificate to Pambiche (Cuban cuisine) 
$50 gift certificate to Nichols Restaurant (Lebanese and Mediterranean cuisine)
$50 gift certificate to Por Que No Taqueria (Mexican cuisine)
Pinot Experience
Complimentary VIP Tour and Tasting for up to eight (8) wine enthusiasts at the Willamette Valley Vineyards Estate Winery
More raffle information to come soon!