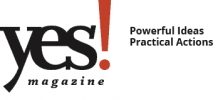 BUILDING PROGRESSIVE MOMENTUM: 5 BALLOT INITIATIVES LEAD THE WAY
From Yes Magazine:
The ballot initiative process, which provides an injection of direct democracy in twenty-four states, often ends up helping the right wing. For years, deep-pocketed funders have backed ballot measures to ban same-sex marriage, restrict reproductive rights, or make it nearly impossible for elected state legislatures to raise taxes—hurting families and helping to tank state budgets.

Often, the process plays out like a game of tug-of-war. Two years ago, the rightward shift in control of state legislatures presaged a wave of legislative attacks on workers, women, immigrants, voters, and the middle class. But then a funny thing happened: Voters pushed back at the polls.