A Note from the Healthy Democracy Team
While this year was one of many challenges, it has also been one of positive reflection. After over a decade of work on the Citizens' Initiative Review, we're expanding our work to bring Citizen Review Panels to local government and beyond.
We envision local public engagement that adds a new tool to the democratic toolbox: panels of everyday people, selected by lottery, deliberating on critical policy issues.
We can't wait for you to join us along this journey.
With gratitude,
Adam, Amanda, Kelly, and Linn
Every Dollar You Donate is a Vote For . . .
Spotlight on One of Our 2020 Projects:
The Eugene Review Panel on Housing
As part of this landmark Review Panel, we are recording a series of videos to explain different parts of the process. Here's the first. View the rest of the series here. More to come in the New Year!
The Eugene Review Panel is a first for Oregon: a publicly funded, lottery-selected Review Panel to advise City staff on a major planning issue.
In November and December, a Panel of 29 Eugene residents – reflective of the City's diversity on seven demographic factors – collected information and worked together to draft Guiding Principles related to housing policy. Those Principles will advise the City of Eugene as it makes zoning code revisions in the new year.
The Eugene Panel is rare in the world of municipal public engagement in several ways:
In its in-depth level of research and deliberation.
In the Panel's ownership over its own process, and
In the fact that its final report was not written or edited by staff.
From our perspective, however, that's all standard stuff.
What's significant for us? That the Eugene Panel's work isn't over. In 2021, the Panel will reconvene and use its own Principles to review the City's progress – twice. In February and again in April, the Panel will provide public feedback on the City's draft code. For the first time in one of our projects, the Review Panel can be assured that the City is listening – because the Panel itself will have the chance to hold City staff accountable if they're not.
Processes that include powerful feedback loops like these are usual in our field. We aim to make them standard practice. Like all of our work, this project is part of a larger objective: to create and refine a series of standardized Review Panel processes, tailored to different decision-making situations, so that these kind of democratic innovations don't stay unique for long. In the case of the Eugene Model, we're at the start of that process. This is the first iteration of a design that we believe will be broadly applicable to complex urban planning issues.
Although we have shifted our focus as an organization, toward seeking out more publicly funded projects like this one, we also know this: We will always depend on the generous support of donors like you. Your donation allows us to design new, groundbreaking democratic processes like the Eugene Panel. Thank you.
Learn more about the Eugene Review Panel, and watch the Panel in action!
Some of Our Other 2020 Accomplishments
Oregon Citizen Assembly Pilot on COVID-19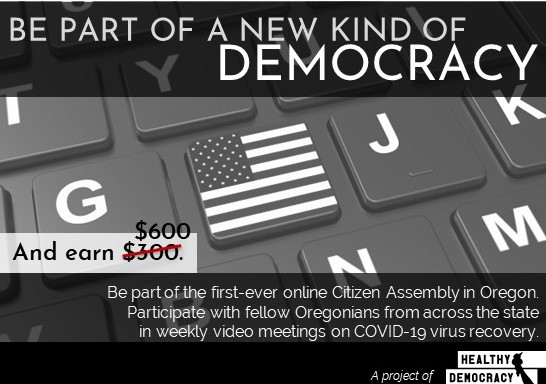 Postcard mailed to invited Panelists in the online Assembly.
Another first for Oregon: a lottery-selected Panel to advise state legislators on recovery priorities.
Continued International Leadership
Support for Citizens' Initiative Review Advocacy
Thank you so much for your continued support. Together, let's create a healthier democracy in 2021!