First-of-its-kind in California!

The Context
The Petaluma Fairgrounds is the heart of the city – and its future should be decided through robust and inclusive community engagement. The Petaluma City Council approved a contract with Healthy Democracy to facilitate a Lottery-Selected Panel as a way to bring the community into important discussions about the future of the fairgrounds. A Lottery-Selected Panel will guarantee representation across Petaluma's many diversities – and will bring many new voices into the conversation around the future of the Fairgrounds. To learn more about these processes, check out our FAQ section.
The Panel
Residents were invited to participate, through a mailing sent to 10,000 randomly selected residential addresses. At a public Lottery Selection Event on April 13th, 2022, a 36-person Panel was selected. Out of 1,000 potential Panels generated by the open source software, Panelot, all of which were random and demographically representative, Panel number 811 was selected.
Demographic categories include age, gender, race/ethnicity, location, housing status, educational attainment, and experience of a disability. Demographic targets are based on the K-12 aged population and will oversample some groups who have previously been underrepresented in City processes.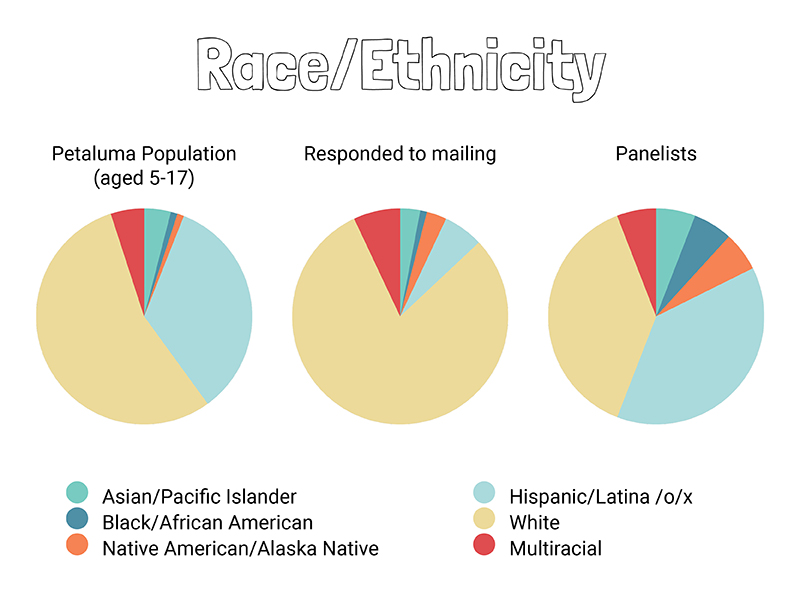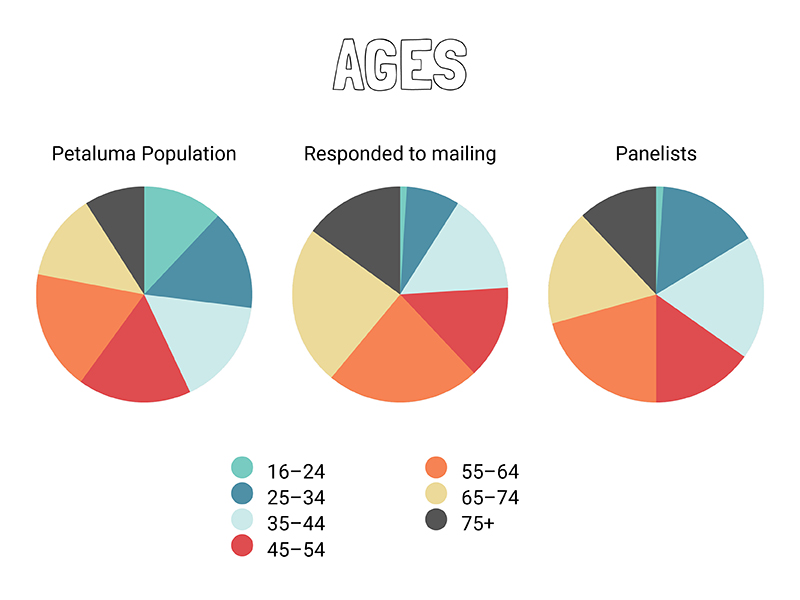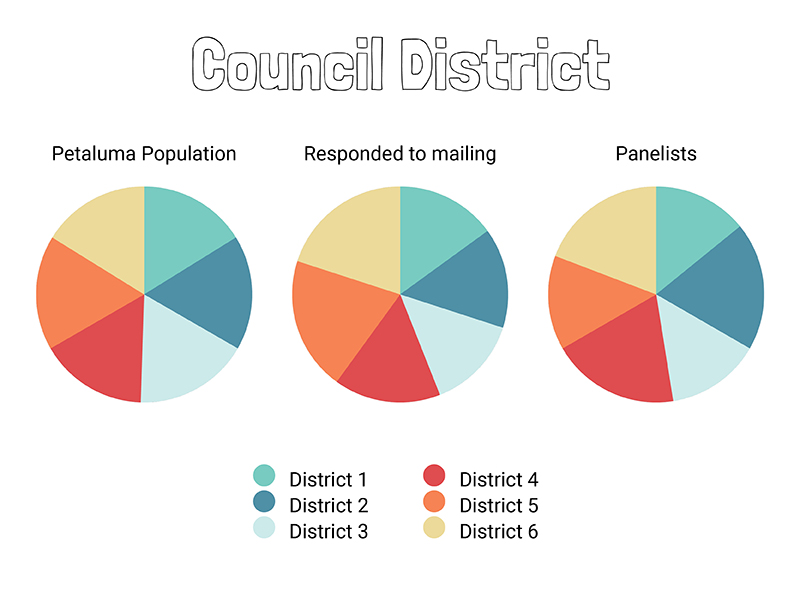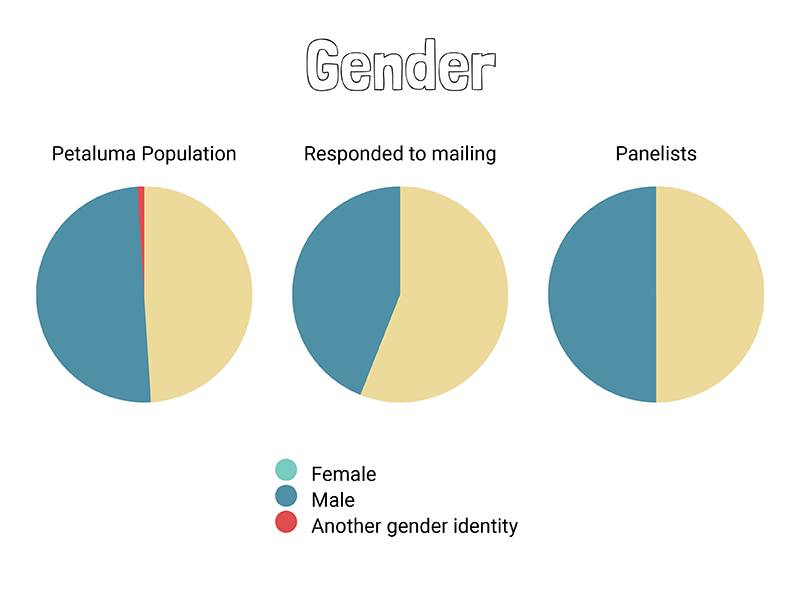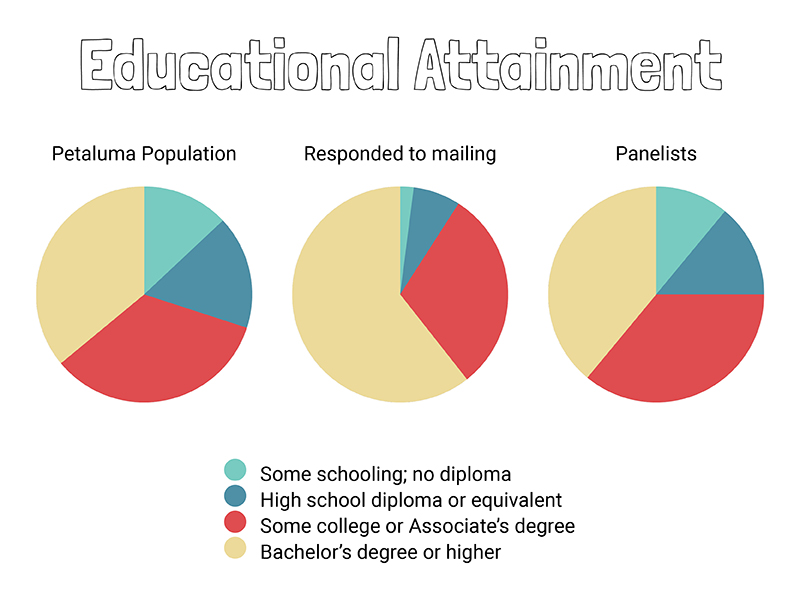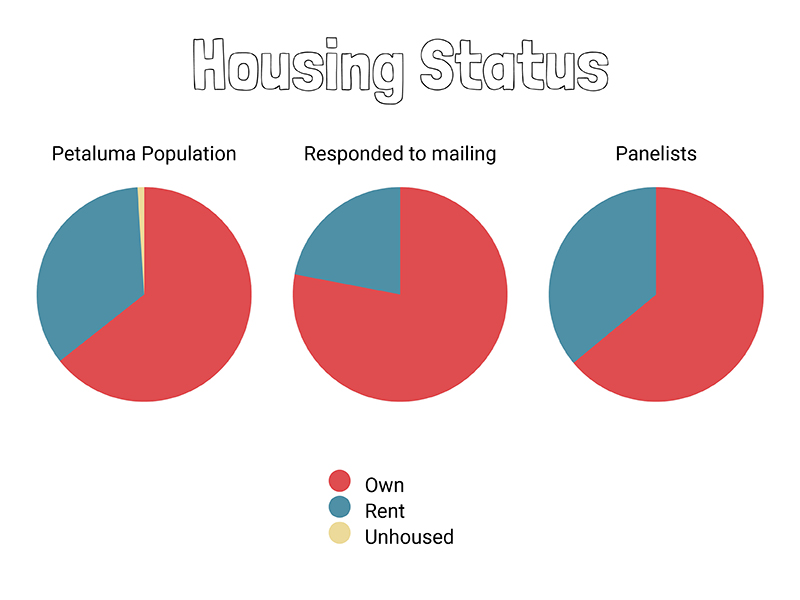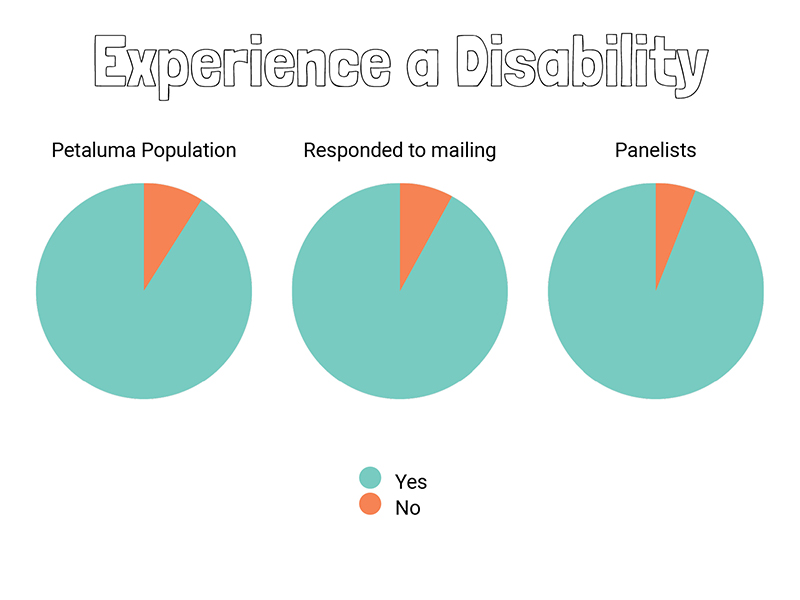 The Panel Sessions will be held from 9 am to 4:30pm on the following dates:
May 13, 14, & 15
June 4
June 17, 18, & 19
July 2
July 8, 9, 10, & 11
There will be a Public Observer's Gallery. The public is invited to observe the process at any time, but they may not participate. They will be instructed to remain silent and to sit "behind the line" in the public gallery, so they do not disturb or attempt to influence the Panel's work.
Attendees of the public observer's gallery will be required to where a mask when in the meeting room. This weekend's sessions will take place in: Petaluma Community Center Meeting Room320 N. McDowell Blvd., Petaluma, CA 94954.
After the Panel makes its recommendations to City Council on July 11th, Panelists will schedule an additional 15 hours with compensation per their availability to deliberate and react to how decision makers handled their recommendations. To learn more about this, go to our FAQ section.
This process will take accessibility in public engagement to a new level. Panelists will be paid a stipend, equivalent to $20 an hour, for their time in deliberation. They'll be provided with any accommodations they need to participate fully in the process, such as child/elder care, transportation costs, laptops and tech support, and comprehensive language access services (interpretation and translation). While not all community members will be selected to participate on the Panel, this process is part of a larger City process to engage the entire community in the visioning of the Fairgrounds.
The Panel's reports will be delivered to the Fair Board and City Council, who will be asked to thoroughly consider and publicly respond to them.
Be sure to check in regularly for Panel updates.
The Panel Reselection Event, to reselect for any folks who did not confirm their participation, took place on May 4th. We had to re-select for 12 positions. Of the thousand Panels generated to select for those 12 positions, Panel number 521 was selected. If you are on Panel 521, you can expect a call from us within the next few days. You can watch that event here.
Panel Deliverables
The Panel will be seated from mid-May to mid-July 2022 and in their 90+ hours of deliberation, the Panel will be asked to provide a series of policy reports that answer the question, "How might we use the City's fairgrounds property to create the experiences, activities, resources, and places that our community needs and desires now and for the foreseeable future?" All three reports are developed, written, and edited exclusively by Panelists themselves:
• Principles
– a prioritized list of overarching values, decision-making criteria, key interests, and important activities that any final recommendation should take into consideration.
• Pathways
– an outline of the possibilities and visions for the Fairgrounds site, including options considered and rationales based on lived experience and outside evidence.
• Final Report
– the Panel's final recommendations, including preferred Fairgrounds land use(s) and rationales, dissenting opinions, and supporting details.
The Panel's reports will be delivered to the Fair Board and City Council, who will be asked to thoroughly consider and publicly respond to them.
Be sure to check in regularly for Panel updates.
Informational Advisory Committee
These panels differ from traditional advisory boards in that they engage new voices – those who aren't usually involved in public decision making – and they give Panelists significant time to learn about the topic before forming recommendations. The Informational Advisory Committee is made up of stakeholders who will support the Panel in that information gathering effort. The IAC's primary role is to curate quality, balanced information for the Panel. The IAC will meet weekly during April and May. Healthy Democracy is currently coordinating with organizations who were nominated for the IAC. See below for more information about the IAC.
The Seventh IAC Meeting will be broadcast live on our

YouTube Channel
on May 23rd, 2022 from 4-5:30pm (PST)
Links
Petaluma Fairgrounds Advisory Panel Sessions
Weekend 1 – May 13, 14, 15th
General Materials
Panelist Binder Materials
Presenter Slides
Worksheets
Public Meetings
Documents
Informational Advisory Committee
Partners
In the News